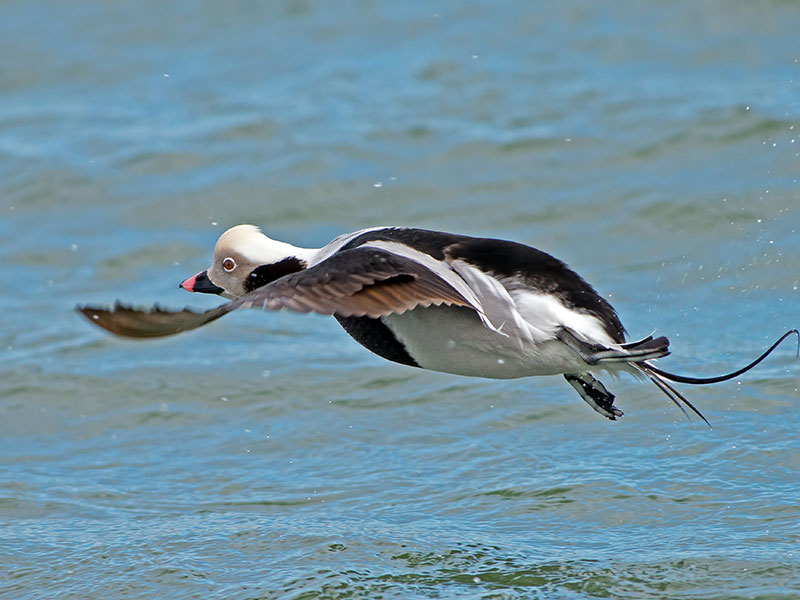 OLD SQUAW
Clangula Hyemalis
Lifespan: 15 Years on AVG (Adult)
Higher Classification: Clangula
Wingspan: 28.3 in (Adult)
Length: 15-22.8 in (Adult)
Weight: M 2.4 lbs, F 1.6 lbs
RELATED NAMES
LOOKING TO BOOK A WORLD CLASS OLD SQUAW DUCK HUNTING ADVENTURE?
DESTINATION #7:
EAST COAST
Location: DEVILS LAKE, NORTH DAKOTA (WITH 2 SATELLITE CAMPS IN SOUTH CENTRAL ND)
Hunt Package: Click here for pricing
Featured Waterfowl Species: EIDERS, OLD SQUAW, SCOTERS, BRANT, BLACK DUCKS & MORE
Possession Limits: 5 SEA DUCKS, 6 DUCKS, 2 BRANT, 5 MERGS. / POSS: 3 X'S DAILY
HUNTING TIPS & TACTICS
The Old Squaw Duck, better known now a days as the Long-tailed Duck in an attempt to be more politically correct, has several defining characteristics. The drakes offer a beautiful mix of white, brown and tan plumage and of course carry the long black tail, similar to a full plumaged drake pintail.
The Old Squaws breed in the Arctic, and winter along both coasts of North America, as well as several large freshwater inland lakes such as Lake Michigan. The Old Squaw was given its name by the Native Americans, due to their loud and abundant vocalizations. From a distance a flock of these beautiful birds sounded like a bunch of Native American women chattering away. The Old Squaw Duck is one of the deepest diving ducks, and can dive as deep as 60 meters (200 feet) to forage for food. They feed primarily on aquatic invertebrates, including insects and crustaceans. Also some bivalves, fish, fish eggs, and plant matter.
This leads right into one the most effective strategies to harvest these incredible little sea ducks. Being that they are one of the most abundant of the sea duck species in North America and that they are found across the continent, from the east coast to the west coast and as stated above, also found on large bodies of inland lakes. They do offer the most opportunity to harvest a member of the sea duck family.
However getting at the little rascals is another thing. The fact that they dive so deep to find food means that harvesting the birds off shore is not realistic in most scenarios, so having a large rig to get far out on big bodies of water is a must. Using a large grey camoed boat blind is one option, but a more effective set up is using large and safe layout boats. However this also means having a tender boat close by which is why many die hard sea duck hunters default to hiring the services of a seasoned outfitter.
Either way, the strategies are more similar to hunting Canada geese in the field then hunting puddle ducks on inland marshes. Meaning that the large flocks of Old Squaws will tend to roost in one area of the ocean or lake and will feed in another, so patterning the birds to find their feeding beds is a must. Once this location has been downloaded onto a GPS or other navigational devise, it is as simple as getting to the area in the morning hours and setting up a decent spread of long line decoys and patiently waiting for the birds to arrive for their morning breakfast.
With liberal daily bag limits in most states, as well as the fact that the drakes are very easy to identify, even to the novice sea duck hunter, the most challenging part of this sport is actually connecting with the fast moving little birds as they dart across the 3 ft swells of the big water.
Although not known for their table fare, they do make a beautiful mount. Being creative with a bag of Old Squaws is a must as a traditional duck dinner is not a tasty option for these sea fairing birds.
UWC OLD SQUAW WATERFOWL POSTER
$17.99
The UWC has put together a beautiful 16″ x 20″ UWC Waterfowl Poster that showcases the Old Squaw (Clangula hyemalis) that inhabits the lands and waters of North America!
The species is listed with the common and scientific name for proper waterfowl identification along with a host of general facts about the bird.
RECOMMENDED DECOYS